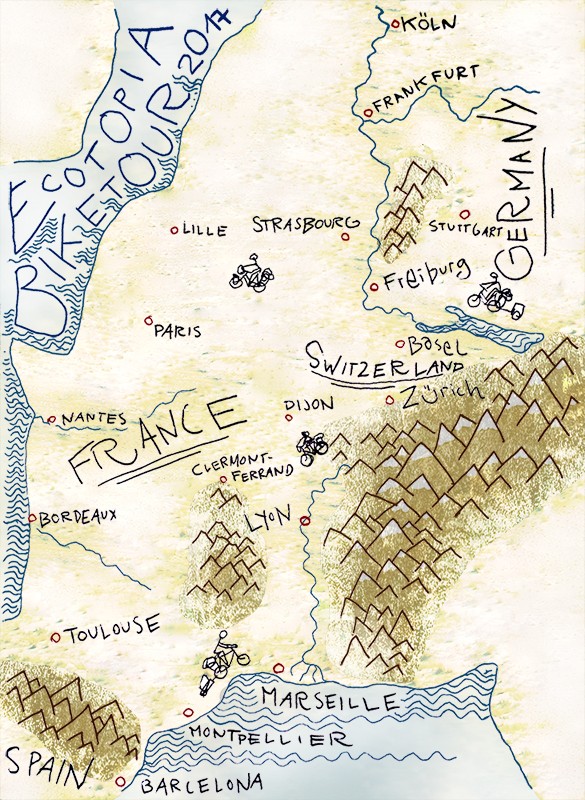 Ecotopia Biketour is a self-organized environmental and social activist bicycle tour that has been cycling through different parts of Europe each summer since 1990. On our way we visit social and environmental projects and groups, to learn about their struggles and visions, to exchange knowledge, to create connections and to support them by participating in actions or doing some physical work. Read more about what the Ecotopia Biketour is.
Ecotopia Biketour 2017 will go through Germany, France and may be to Switzerland and eastern Spain. A more specific route will be announced on the website as soon as it is decided. If you have some recommendations for projects, groups and events for us to visit on the way or would like to help preparing the tour, write to 2017@ecotopiabiketour.net. Read more about Ecotopia Biketour 2017.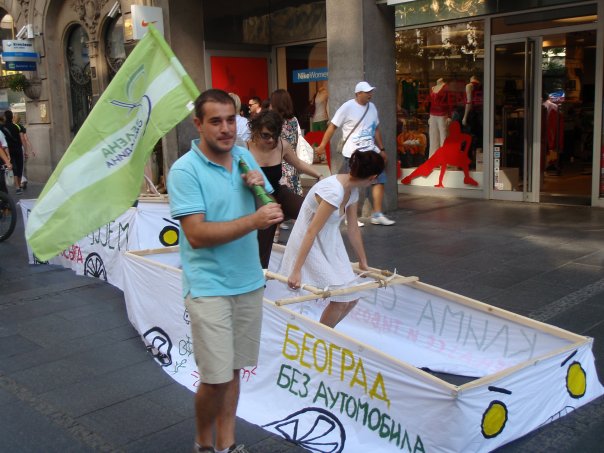 First, Biketour participants gathered at Belgrade from 5th to 6th of July. At Knez Mihalova in pedestrian zone together with Green Youth, Young Researchers of Serbia and Yugo Cycling Campaign we organized a street promotion of "walkmobile – sustainable pedestrian vehicle" for the public. We distributed numerous leaflets with info about advantages of alternative modes of transport compared to personal care use. After the action Biketour get on the night train towards Skopje. See more pictures from Milan here.